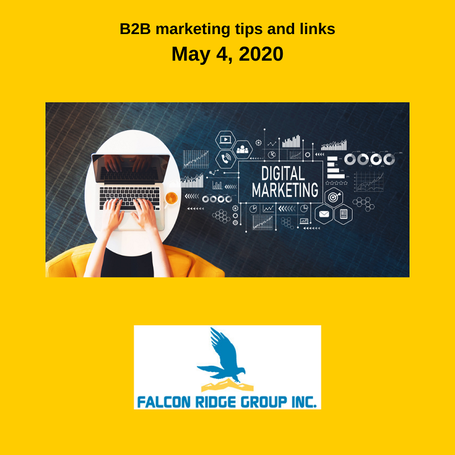 While life is far from normal during the COVID-19 crisis, the Canadian economy is at the beginning stages of opening-up. This is good news as-long-as we have the dedication to continue practicing safe guidelines. It would be a shame to shut-down again for a second wave.
Social distancing will be in place for many months to come which means business owners and managers need to seek alternative marketing strategies moving forward. In my opinion, digital marketing strategies will be a big part of the future starting now.
Below is a summary with links to some marketing blogs I have read over the past couple of weeks. I will be writing regular blogs with links from the experts. Notifications will be posted on my Twitter feed as well as my personal LinkedIn feed and my Falcon Ridge Group LinkedIn page - make sure to follow this page.
4 tips to elevate videos for social media marketing
Most social media managers know they must incorporate visual content into their plans. Dynamic videos and video clips are increasingly becoming part of this strategy, too. Now, 81% of businesses use video as a marketing tool—up from 63% the previous year—according to HubSpot. With video content becoming an integral part of an organization's overall marketing strategy, it's more important than ever to make sure it's executed seamlessly, professionally and in a way that will drive a return on investment.
How to Execute Successful Content Marketing
What's the benefit of content marketing? It's not only connecting customers with your brand. When a potential customer goes to your social media profile and sees content, it gives that person a sense of trust. When there's communication through shares or comments, the bond between customer and company is strengthened.
Why the lockdown is driving demand for B2B marketing software and tech
Technology should no longer be viewed as an added bonus when it comes to your business. In the current climate, B2B organisations are adapting to an entirely online approach. With no face-to-face meetings or events and their teams working remotely, software plays a crucial part in securing the best marketing results.
10 Tips for Increasing Your Landing Page Conversion Rates
A conversion email series typically sends recipients to a landing page that offers more in-depth content or sells merchandise. Depending on whether you're selling a product directly from your landing page, asking visitors to download a free white paper, or promoting a webinar or demonstration, conversion rates can range from less than 1 percent to more than 50 percent.
What are the key link building strategies 2020 every marketer needs to know?
Platforms such as HubSpot land millions of links every month. Their reputation is based on the fact that they acquire high-quality links. Top search engines such as Google have made it clear that links are one of the most widely assessed SEO factors that they consider while ranking websites. While posting content continues to be an effective marketing strategy, content without valuable links limits the referral traffic of websites, hindering their chances of securing top rankings. How can small business websites acquire useful links from high-ranking websites without breaking search engine rules?
Considerations For Hiring A Marketing Person Or Outsourcing To A Digital Marketing Agency
Regardless of whether you have been in business for 10 days or 10 years, as an independent RIA, you have undoubtedly learned that marketing is a key component to your success. Even before the days of digital marketing, traditional marketing in the form of print, radio, and television was crucial in achieving brand awareness and gaining new clients. However, in the fast-paced digital world we now live in, marketing has taken on an entirely new meaning.
A Guide to the Marketing Funnel for Your Small Business
The marketing funnel is one of the most important concepts in small business marketing, and for good reason. Mastering the marketing funnel can help turn your campaigns into conversion machines, enable you to develop top-notch marketing proposals, and drive up sales. Conversely, getting it wrong and not aligning your marketing collateral with the customer journey can lead to lost business.
Five Easy Ways to Get Started With Email Marketing
Email has become the backbone of not only business communication, but all online communication. While it isn't new technology, it's also not going anywhere. Studies show email communication is expected to grow to 4.3 billion users by 2023. For businesses, using email effectively can grow your business substantially with little effort. However, if you stray from a well-defined path, you could end up annoying your customers and detracting them from engaging with your business.
Thanks for reading. Until next time, stay healthy and safe.
Arnie Gess
President
Falcon Ridge Group Inc.