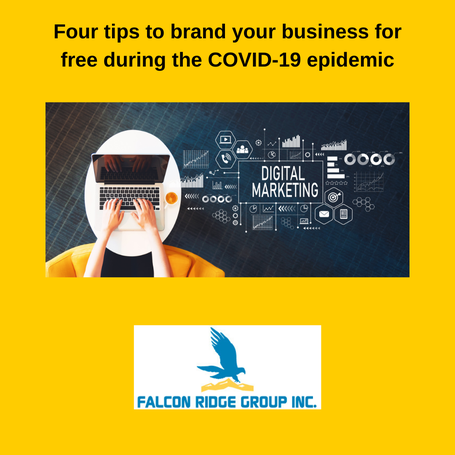 I've been in the B2B publishing, marketing, advertising, event management and now content sharing business for over 30 years. I thought I saw it all until this COVID-19 pandemic crisis.
Stock markets have crashed, businesses have been ordered to shut their doors, millions of people have been laid off, business confidence has dropped dramatically and the governments around the world are pumping $trillions into the economy.
Trade shows, conferences and events have been cancelled or postponed. Business meetings, travel and networking opportunities are all currently on hold.
According to MediaPost.com, 55% of businesses will now decrease their marketing budgets while 40% will shift their budgets to digital marketing opportunities.
So with all this current turmoil, there still are opportunities to continue promoting your business. Some of these opportunities are free providing you put in the effort and time.
Update your website
Your website is the "face" of your business. You will be losing business opportunities if your web presence is outdated. There are many template website builders out there where you can build and design your new website on your own. In fact, last weekend I "re-branded" this website in under two hours. My service provider is Jimdo.com and I pay less than $200 a year which includes domain registration and hosting.
Set up a Google My Business page
With Google My Business, you can create a free mobile-optimized website to represent your business. Google will automatically use the information and photos from your Business Profile on Google to create a site that you can customize with themes, photos, and text. Your free site will automatically update whenever you change your business information or post new photos. Your website will also be optimized for display on desktop, laptop, and mobile devices. You can find all the details here.
Set up social media accounts
If your business is not yet branding on social media, you are missing a fantastic way to promote your business for free. With a little computer knowledge, setting up your accounts is quite easy. I find for B2B businesses, the most popular platforms are LinkedIn, Facebook, Twitter and Instagram. Check out the social media accounts for my Construction Links Network business - LinkedIn, Facebook, Twitter, Instagram. I also set up a LinkedIn business page for Falcon Ridge Group this week - see it here and thanks in advance for following.
Write a regular blog
Blogs are an excellent way to "tell your story" to prospects and customers. Blog topic ideas include industry trends, new products / services, customer interviews / testimonials and more. Once your blog is posted on your updated website, post an update with a link on your new Google My Business page as well as your new social media accounts. This will drive traffic back to your website and it all can be done for free.
So don't let the COVID-19 pandemic stop you from promoting your business. Let your customers know you have the confidence to survive this crisis and in fact will be stronger than ever when business returns to more normal times.
I am always available to help your business succeed. If you need on-demand marketing help for a few hours a month or simply a little free advice contact me by phone, text or through the form on this website.
Thanks for reading. Stay healthy and safe.
Arnie Gess
President
Falcon Ridge Group Inc.